PITTSBURGH, Pa. — Ocean Genomics' abstract for their AI-driven transcriptome analysis titled "Novel Expression Biomarkers via Prediction of Response to FOLFIRINOX (FFX) Treatment for Pancreatic Ductal Adenocarcinoma" has been presented as a poster at the American Association for Cancer Research (AACR) Annual Meeting 2023, and has been published in the online Proceedings of the AACR.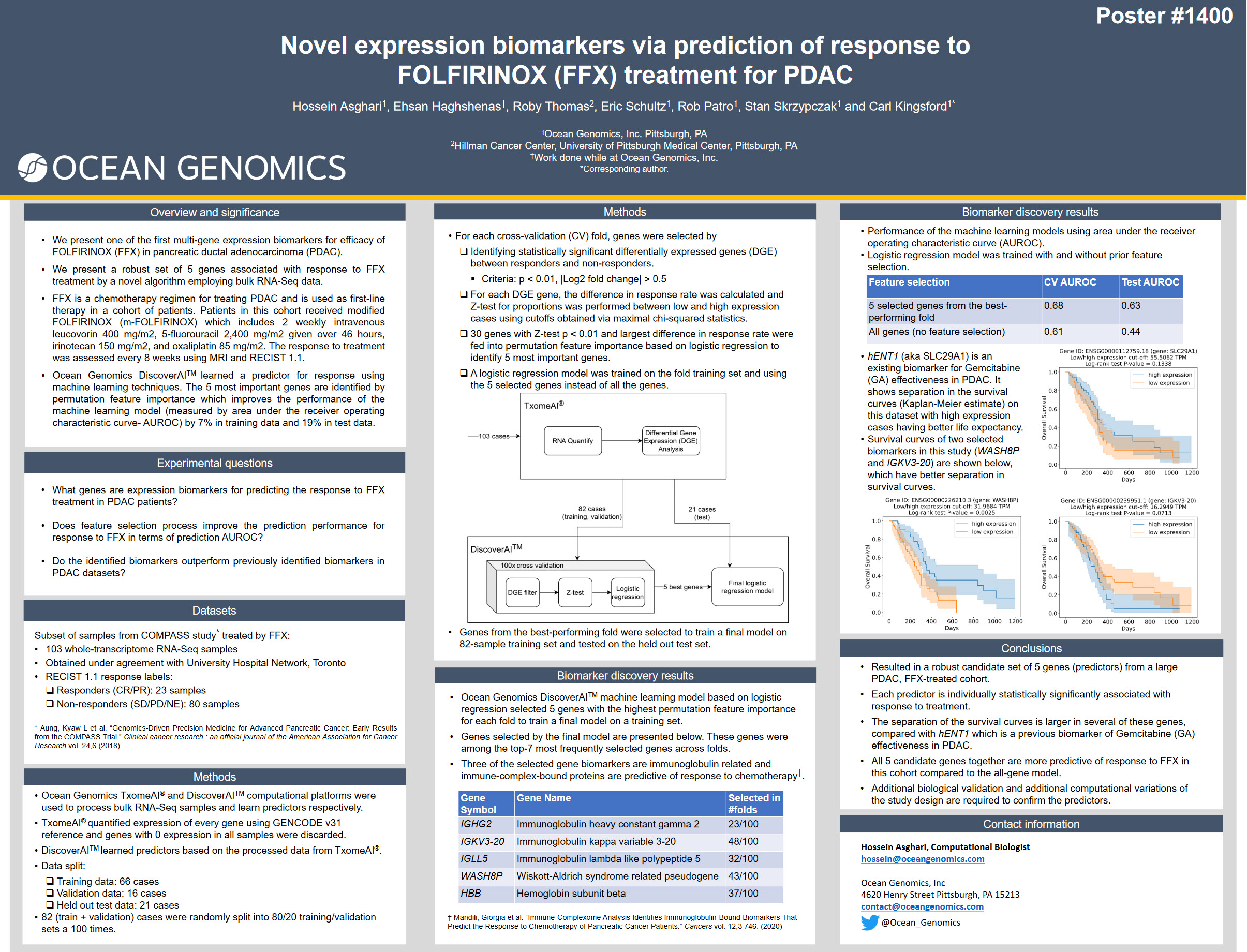 Session Category: Molecular/Cellular Biology and Genetics
Session Title: Biomarker Discovery
Location: Section 9
Poster Board Number: 9
Abstract Presentation Number: 1400
A team of computational biologists at Ocean Genomics used the company's Intelligent Transcriptome AI platform to discover the biomarker.
Roby A. Thomas, MD, co-author, is a medical oncologist and assistant director of medical information systems for UPMC Hillman Cancer Center.
About Ocean Genomics
Ocean Genomics is the transcriptomics AI company. We develop software, data and models and enable our partners to leverage advanced transcriptomic information with other related data and AI to advantage their discovery and development programs. We partner with cutting-edge drug developers to supply insights and evidence that enable data-driven decisions, provide confidence in the underlying biology, and increase the probability of technical and clinical success at every step. Our founders are recognized as leading experts in the fields of computational biology and AI, and developers of many of the most widely used software methods in gene expression analysis.
Our Intelligent Transcriptome computing platforms extract extensive gene expression features and analyses from raw RNA-Seq files (TxomeAI®), and automatically integrate those features with clinical and other -omics to produce accurate, actionable models, and discover drug targets and biomarkers (DiscoverAI™). Our vast database (DeepSea™) provides deeply characterized transcriptomes, curated metadata, and pre-trained AI models to add power to discovery and analyses.
For more information, please visit oceangenomics.com and connect with us on Twitter and LinkedIn.